Subject Area: Spare parts inventory optimization trap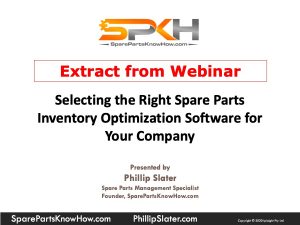 Traps to Avoid: Lesson 2
Spare parts inventories are typically made up of tens of thousands of items, but do they all need to be optimized?
It is easy to fall into the trap of thinking that because the 'software does the work' you should include everything you have in your spare parts inventory optimization project.
But there are hidden costs in terms of your team's time and energy to review results. Therefore, items of low value probably don't need to be analysed.
Avoiding this one trap could save thousands of dollars in software and labor costs by seeking a solution that will analyse only the quantity that you need.
This spare parts inventory optimization trap is explained in this short video, an edited extract from a live webinar titled: Selecting the Right Spare Parts Inventory Optimization Software for Your Company
Run time: 2:27
---
For access to this video, and all of our content, join using the button below.
If you are already registered then you need to log-in.
---
---
For information on our Pro Level spare parts management online training please visit our Pro Level page.

For group training our Spare Parts Management Online Boot Camp is an intensive, instructor led, 100% online, group or team training program that teaches participants the fundamentals of spare parts inventory management.
To learn more CLICK HERE
---

You might also be interested in visiting our Online Library Home Page


Posted by: Phillip Slater