Subject Area: Optimization Software Problem Definition Template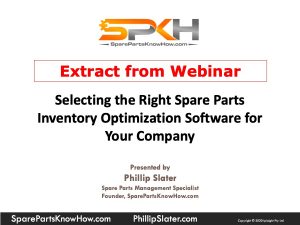 This is our optimization software problem definition template.
A problem definition should look something like this four point template:
Our spare parts inventory routinely fails to deliver on our goals of minimal stock with target availability because… (insert issues of concern)
This is evidenced by… (insert data)
This impacts different areas of our company in these ways… (insert stakeholder perspectives)
Resolving this issue would… (insert financial benefit)
Note that for greatest effectiveness the problem definition must be specific and include data.
This optimization software problem definition template is explained in this short video, an edited extract from a live webinar titled: Selecting the Right Spare Parts Inventory Optimization Software for Your Company
Run time: 3:36
---
For access to this video, and all of our content, join using the button below.
If you are already registered then you need to log-in.
---
---
For information on spare parts inventory characteristics and our spare parts management online training please visit our Pro Level page.
---



Posted by: Phillip Slater