Subject Area: Understand the Underlying Software Technology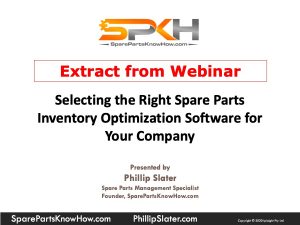 What do we mean by underlying software technology?
This term refers to understanding the software system's process and its applicability to spare parts inventory.
The key question is: Is the software suitable for this type of inventory?
This is different understanding the theoretical principles of inventory management or a simple algorithm.
The first step is to look for transparency from the vendor.
If they say that their process is 'proprietary and secret' then you have now way of determining the suitability.
This is explained in this short video, an edited extract from a live webinar titled: Selecting the Right Spare Parts Inventory Optimization Software for Your Company
Run time: 2:15
---
For access to this video, and all of our content, join using the button below.
If you are already registered then you need to log-in.
---
---
For information on spare parts inventory characteristics and our spare parts management online training please visit our Pro Level page.
---



Posted by: Phillip Slater