Subject Area: Inventory Management Training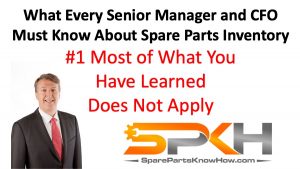 Have you, at some time, participated in inventory management training?
Maybe at a conference, seminar, or a formal course?
Have you noticed that applying inventory management training theory and techniques hasn't helped you get the results you need with your spare parts inventory?
This video explains that most of what you have learned about inventory management does not apply to spare parts.
Why?
It has to do with the position of your spare parts inventory in the overall supply chain.
Failure to understand the 'rules' around spare parts inventory leads to waste and spare parts inventory costs that are avoidable. If you know how.


This short video is an edited extract from a live webinar titled: What Every Senior Manager and CFO Must Know About Spare Parts Inventory
The key take away from this video is that to better manage your spare parts inventory you cannot apply the standard theory. You need to learn spare parts specific techniques.
Run time: 3 minutes 18 seconds
---
For complimentary access to this video and our entire Basic Level content, register using the button below. We will also keep you up-to-date on content and courses.
If you are already registered then you need to log-in.
---
---
For information on spare parts inventory characteristics and our spare parts management online training please visit our Pro Level page.
---



Posted by: Phillip Slater