Subject Area: Excess Spare Parts Inventories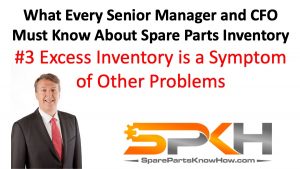 Concerned about the excess spare parts inventories that your company has?
Do you think that this is the problem that needs to be solved?
The reality is that excess inventory is a symptom, not the problem.
The 'problem' is something else in your spare parts management system, and this leads to holding excess spare parts inventories.
Failure to understand these types of 'rules' around spare parts inventory leads to both increased risk and increased expenditure on spare parts inventory. Risk and costs that are avoidable. If you know how.
This video explains why with spare parts, excess spare parts inventory is the symptom, not the problem.

This short video is an edited extract from a live webinar titled: What Every Senior Manager and CFO Must Know About Spare Parts Inventory
Run time: 2 minutes 05 seconds
---
For complimentary access to this video and our entire Basic Level content, register using the button below. We will also keep you up-to-date on content and courses.
If you are already registered then you need to log-in.
---
---
For information on spare parts inventory characteristics and our spare parts management online training please visit our Pro Level page.
---



Posted by: Phillip Slater