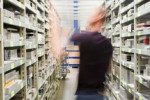 Do you need your boss to agree for you to get spare parts management training approval? Are you looking for a way to win their support?
To help we have provided here a template of an email for your boss.
Just cut and paste this note below and then modify the content to your specific needs.
SUBJECT LINE: [Insert Your Boss' Name Here], I'd like to register for spare parts management training at SparePartsKnowHow.com
Hi [Insert Your Boss' Name Here],
As you know, our spare parts inventory is now more important than ever because of the effect it has on both operational and financial results.
However, in my opinion, the biggest issue we face with our spare parts is that the management techniques used for our other types of inventory don't apply here. In fact, it is applying that thinking that has generated many of the problems that we face today.
At SparePartsKnowHow.com I have found a website with a range of resources specifically aimed at solving spare parts inventory problems. Their content is highly regarded (they have won awards and worked with a couple of different US universities) and the people they train are from companies just like ours (I checked out their past and current client list).
By undertaking the spare parts management training available at SparePartsKnowHow.com, I believe that I can develop my skills and have a bigger impact with our spare parts inventory, from both an operational and financial perspective.
My preference is to join their Pro level. Here's a quick breakdown of what's included:
24/7 access to hundreds of articles and videos relating to spare parts management.
Training support – if I have a question about anything relating to the application of the content then I can email them for support.
Their top training course – it's an Advanced Certificate. This course is endorsed by the University of Tennessee. To complete this I will need to pass a series of quizzes, they don't just give this out for 'showing up'.
An online calculator that I can use to review the validity of day-to-day stock holding decisions. This will be both a time and money saver.
Priority access to all of their 'Guest Expert' sessions. This is where they bring in a subject matter expert – and they have had some really smart people covering a whole range of topics that we don't normally get access to.
Complimentary ebooks on optimization and vending machine selection.
Policy templates – we won't need to 're-invent the wheel' we can just use their templates and then modify them for us.
The investment for this is just $10.00 per week – billed annually.
That is a bargain when compared to attending a conference or other spare parts management training event, plus there are no travel expenses. Given how much we spend on inventory I have no doubt that we will get a return on this investment many times over.
I understand and respect that you need to provide spare parts management training approval and with your permission I'd like to sign up today.
Thanks for considering it.
[Insert Your Name Here]
---
For more information on our spare parts management online training please visit our Pro Level page.
---

Posted by: Phillip Slater