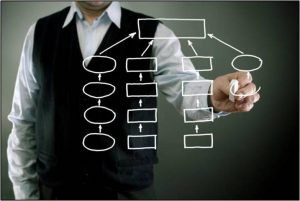 One problem with 'best practices' is that while it may be possible to define targets for almost everything that you do, implementing actions to achieve those targets may not actually make any difference to your overall results.
Another problem is that discussions on practices are usually not objective – for many people what's 'best' usually comes down to their own personal experience and opinion.
To overcome these problems we developed an approach that identifies which actions actually make a difference in terms of producing better inventory management outcomes.
Using this approach we identified a series of 'best practices' that our research shows make a genuine difference. In fact, these practices are largely implemented by the top 20% of companies and are NOT implemented by the bottom 20% of companies.

---
What is Best Practice?
---
Some years ago we developed a method for evaluating and comparing the spare parts management performance of companies. We call this the Materials and Spare Parts Management Matrix.
This matrix evaluates 25 aspects of spare parts management and we plot a company's current performance against four escalating levels of performance using standardized descriptors. Over the years this tool has been used to evaluate hundreds of storerooms and warehouses, in many different industries and countries, so we have a significant database of results.
To decide which practices are 'best' we compared the management actions of the companies that scored in the top 20% in terms of outcomes with those companies that scored in the bottom 20%.
By correlating outcomes in terms of inventory levels, stock turns and stock outs with a range of inventory management actions this tool gives us unique insights into what works and what doesn't with spare parts management.
Not just what some companies are doing better than others but what actually makes a difference.
The matrix already identifies an escalating series of 'better practices' in each aspect of spare parts management so what we have been able to do is identify the practices that make a real difference to the actual results.

---
Key Finding form Our Research
---
The key finding from this work is this:
A strong focus on transaction control and physical infrastructure…

… is a 'necessary but not sufficient' condition for achieving better inventory outcomes.

The best outcomes result from how companies execute 7 specific practices.
---
Next Steps
---
We provide the following options for you to learn more about these 7 specific practices:
Advanced Spare Part Management Certificate: this course includes a module on best practices.
Full Access and Support Membership: This membership includes access to our entire library, including best practice videos and articles, plus access to our Spare Parts Inventory Management Capability and Best Practice Framework.


Posted by: Phillip Slater