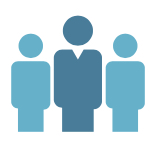 Whether your team is located at one site or spread across many locations globally, SparePartsKnowHow.com is the ideal way to ensure consistent spare parts training
Companies that invest this knowledge in just one (or a few) individuals usually find that there is not enough 'critical mass' to execute widespread improvement. Worse than this, they find that different locations do thing differently because they went to different training events. Better to have just one 'source of truth'. This is what Company Membership at SparePartsKnowHow.com provides.

Here's What's Included With a Company Membership
In addition to the regular benefits of joining SparePartsKnowHow.com, a Company Membership also includes:
You get up to 30 'seats' or logins that can be used simultaneously
Everyone gets the same 24/7 access to our training courses and content
You have the flexibility to re-assign memberships if people leave or are promoted
We provide a fast-start webinar to ensure that everyone gets up-to-speed as quickly as possible
There is one simple invoice covering all members – there are no extra or hidden charges
This is the lowest way to train your team
In addition, a Company Plus membership provides for a virtual classroom program exclusively for your team and monthly reporting of your team's log-ins and course completions
How Companies Apply a Company Membership for Spare Parts Training
Companies that join with a company membership usually apply the membership in one of three ways:
Self-directed: They let individuals determine for themselves the frequency and level of use
Certification: The company sets the achievement of the Spare Parts Inventory Management Certificate as the minimum qualification for key spare parts management roles
Company Directed: The company takes up a Company Plus membership, all members attend a virtual classroom training program covering the requirements for the Spare Parts Management Certificate, then access and progress is reported monthly to the company nominated representative
Company Membership FAQs
How do I join?
To join with a Company or Company Plus Membership you need to contact us to arrange invoicing.
How much does it cost?
Company Membership: US$9,980 per year
Company Plus Membership: US$19,980 per year
What if we don't have 30 people to sign up?
If don't have 30 team members to include you can still sign up for a Company or Company Plus Membership but just not use all the logins. This is the only way to get all the benefits of these membership types.
What if I only need 5 or 10 memberships?
In this case, we can still arrange to invoice you but you can't access the full benefits of a Company or Company Plus Membership. We can invoice you for as few as 5 members.
What if I sign up 10 people today and then 20 in six months, can I then get the Company discount and benefits?
No. To get the benefits of a Company or Company Plus Membership you need to sign up everyone in a single transaction.
Do I get any discount for signing up multiple members?
Yes! Multiple sign ups paid for through a single invoice save us on processing fees so we pass that saving onto you. You can expect a 7.5% discount on the standard individual membership – meaning that you pay only US$462.50 per person per year!
What if I want to sign up more than 30 members?
Then please contact us! Here is a link
Where can I compare the membership types?
Follow this link – Membership Comparison
What if I have more questions?
Then please contact us! Here is a link