Subject Area: Spare Parts Inventory Management and Optimization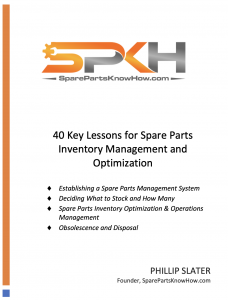 How do you establish an approach to spare parts inventory management that will give you the best chance of having the parts you need, when you need them, while simultaneously making sure that you don't overstock?
This management guide explains the concept of Sparesology® and identifies 40 key lessons for spare parts inventory management and optimization.
The lessons are presented in a logical way that follows the life cycle of spare parts management.
Albert Einstein is reported to have said, 'You can't solve today's problems with the same thinking that created them'.
This idea goes to the heart of improving spare parts management and optimization.
To change your results you need to think and do things differently.
To get your complimentary copy, complete this form and then check your email.


Please note that by providing your details you are consenting to receiving our regular newsletter with updates and information.


This guide was created by Phillip Slater

---
For access to all our content please join our Pro Level Membership.
---