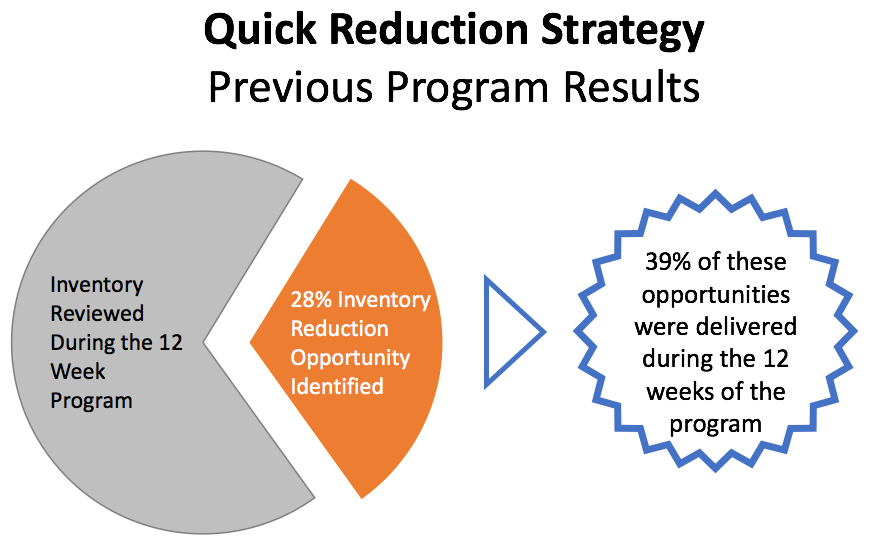 QRS Program Overview
Our Quick Reduction Strategy (QRS) Program is much more than a training course. The goal of this program is for you to achieve a significant reduction in your spare parts inventory holdings – in just 12 weeks!
But this is not a 'slash and burn' program. The results will be genuine, maintenance friendly, inventory reductions and lasting procurement savings. This is achieved without any additional software by applying our exclusive Quick Reduction Strategy (QRS) process.
The QRS was developed for spare parts inventory review situations where the options for reduction opportunity are limited – and where quick results are needed.
This is a tried and tested approach that is backed up by past results from application in storerooms from North America to Asia and beyond.

The Key Is to Focus on the Process
This program is not about showing you some new discovery in terms of inventory reduction, it is about the process. That is where the power is.
While the program utilizes some of the steps from Phillip Slater's books, the emphasis is on the application of the process. This is because in our experience achieving superior inventory reduction outcomes relies far more on the process.
The feedback that we have from people that buy Phillip's books and apply the actions is that on average they achieve a 12% inventory reduction, whereas programs that Phillip is involved in, where he pushes the process, achieve, on average, a 37% reduction. Clearly a massive additional benefit.
Overcome the Inertia of Corporate Programs
Many companies operate with a network of individual sites that each have autonomous management, with a site-level P&L, and of course their own plans and priorities. Sometimes this means that getting teams from these sites to participate in a company-wide, 'must participate' corporate initiative is very difficult.
The QRS Program is structured to be an affordable and low risk opportunity for any individual site that wants to take action to participate and reduce their spare parts inventory. Rather than push a corporate program, you can involve one or two sites where the local management are keen to get involved.

Quick Reduction Strategy Program Structure
Our QRS Program is structured to teach you the QRS process and then work with you to execute with purpose.
The training is delivered in an online group environment and adopts some of the learning techniques developed through the Khan Academy. The action phase is delivered one-on-one (again online) and this will ensure the effectiveness of application through the process.
The program is structured with two distinct phases:
Phase 1: Training
This is where we evaluate your existing approach to spare parts inventory management and where, through a series of live online sessions, you learn about the tools and techniques for applying the Quick Reduction Strategy. This phase takes 4 weeks.
Phase 2: Application
In this phase you will apply the techniques of the Quick Reduction Strategy in your workplace. However, unlike many training programs, we will be available to supervise and coach you in the application of the process, to ensure that you are doing it right and extracting the maximum opportunity for your company. This phase lasts 8 weeks.
As a result, you will, over the course of 12 weeks, achieve serious results in spare parts inventory reduction.
Note that the program is conducted via live online interaction using tools such a Skype and GoToMeeting.

This program includes:
1 x Inventory Management 'Desktop' Audit
This is a review process that utilizes our Best Practice Spare Parts Management Matrix to evaluate your current spare parts management practices. We will provide a tailored report with your results, including suggestions on where to focus improvements.

2 x SparePartsKnowHow.com 12 month Memberships
We recommend that you appoint two people to work together on this program and these memberships will give your team access to our full suite of resources.

4 x 90 minute group online training sessions
This is where we will teach you about specific issues relating to spare parts inventory management and show you how to apply the QRS process. Complete with examples and exercises.

12 x 1hr online sessions with Phillip Slater
Phillip will be your team's personal coach, showing you how to apply the QRS process and helping you achieve greater results. These sessions will be private and will specifically address your team's actions and results.

Membership to our special SPKH Training LinkedIn Group
This is where you can network online with other participants and learn from their experience as well as share your own.
Who Is It For?
This course is aimed at MRO, spare parts, and materials that are used to support maintenance work and production operations. Essentially this means any industry that uses equipment to produce a product or as part of their service.

How Long is the Program?
The program takes 12 weeks to complete.

Are the Results Guaranteed?
Yes!
We are so confident that this program will deliver as promised, that we will provide an iron clad, 100% money back guarantee that, if you apply the process and implement the resulting actions, you will achieve savings that payback the cost of the course BEFORE YOU COMPLETE THE PROGRAM.
That means that this program will be fully self-funding.

Stuff You Need to Know
There are some things that you need to know:
This is highly focussed program of activity aimed specifically at the application of the QRS process. This is not a generic spare parts management program (if you want that please review our Spare Parts Management Certificate)
Each registration applies to only one storeroom/warehouse and only one set of data. If you want to include multiple storerooms/warehouses or multiple data sets then you will need to register multiple times.
You must be ready to take action. This is an action-oriented program and so you cannot join if you are only looking for training.
You will need share your data with us. In order to help review your inventory you will need to be prepared to share with us your spare parts inventory data, plus progress reports, in an Excel spreadsheet format.
There is a maximum of 10 registrations per program.
You must qualify to register. Due to the nature of the program you must qualify before you can start. Qualification is via an interview to assess if you are in a position to take full advantage of the program.
This program is not included with SparePartsKnowHow.com membership
How Much Does it Cost?
Your investment for this program is just US$7,500. This covers all tuition, support and membership fees.
This investment must be paid in full at least two weeks before commencement or you will not be able to start the course. Once registered your investment is not refundable. However, note that, as mentioned above, your return on this investment is fully guaranteed!

When Does it Start?
This program is run on-demand.

What to Do Next
If you want to know more, or you want to see if you qualify, then please contact us and we will schedule a call to discuss the program.