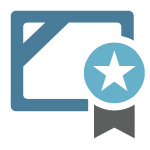 Smart move! Gaining a certificate from SparePartsKnowHow.com is one of the few ways (and some say only way) that you can demonstrate that you have the know-how required for spare parts inventory management…
Our courses and content are unique in that they are specifically developed for the management of spare parts inventory. This is the only place that you can achieve a qualification in spare parts management.

---
There is material here that you won't find anywhere else.
If you are involved in spare parts and materials for operations and maintenance you would be mad not to take advantage of this resource.
Adrian Hanrahan
Spare Parts Management Specialist in the Oil & Gas Industry

---
The Benefits of Certification

The benefits of joining SparePartsKnowHow.com to gain a certificate qualification include:
Better spare parts management results – applying what you learn will deliver better outcomes
Additional professional credibility – a certificate is a strong indicator of your know-how!
Greater confidence that you can face the challenges of spare parts management
Demonstration of your commitment to continuing professional development
You will stand out from the crowd – making you more valuable to your current and future employers
For employers, staff training leads to happier employees, who stay around longer
For employers, you have greater peace of mind that the job will be done right
For employers, you will have greater productivity – employees who are better prepared for the day-to-day challenges will deal with those challenges more efficiently and more effectively
Here is a list of just some of the businesses that have trusted SparePartsKnowHow.com for their spare parts management training.

---
FAQs on Achieving a Qualification in Spare Parts Management

What qualification in spare parts management do you offer?
We offer two spare parts management certificates.
The Spare Parts Management Certificate – comprehensively covers everything you need to know to ensure that you develop the complete set of skills, know-how, policies, and systems for successful spare parts inventory management.
The Spare Parts Inventory Optimization Certificate – teaches you the Inventory Cash Release® (ICR®) Process, a step-by-step approach for spare parts inventory optimization that is proven to deliver results superior to other optimization methods.
Learn more about these and all of our courses at the Resource Center
How do I join?
Joining is easy. Choose your option at our Membership Options page and then follow the prompts to PayPal. If you have a PayPal account you can use that. If not then you can still pay via PayPal by using your credit credit card.
Here is a link to the Membership Options page.
What if I don't have a PayPal Account?
No problem, PayPal accepts a wide range of credit cards as well.
How much does it cost?
If you are seeking certification then we recommend a Short Course membership. This costs US$299 and gives you 4 months access.
When I join, are there any extra costs for the training courses?
No.
All training, certificate courses, support and content is included in the membership fee. The only items not included are our occasional 'action programs'.
Once I complete a course how do I get my certificate?
Our team monitors the progress of members as they progress through the requirements for certificates. Once you complete all requirements we will email your certificate within a week or so.
What if I want to do more than one certificate?
No problem.
During the period of your membership you can undertake any and all of our certificates. The choice is yours and there is no extra cost for any additional courses.
What if I join and then change my mind?
No problem.
If you have not completed any quizzes or certificates or used the online coaching service we provide a 14-day refund period for people that join up online with an Short Course membership. Just advise us within 14 days of joining and if you have not yet completed any quizzes or certificates or used the online coaching service then we will give you a full refund. Note that all membership privileges and access will cease once the refund is requested. If you have completed any activity that awards a certificate or a badge then no refunds are available.
Does the Short Course membership renew automatically?
No. For your peace of mind we no longer use automatic renewals. Your membership will cease at the end of the membership period and if you have not completed your course you will need to sign up again.
Will you invoice me for a single membership?
No. We provide the convenience of online subscriptions for single memberships.
What if I need 5 or more people to complete certificates?
In this case, we can arrange to invoice you but you can't access the training courses or content until the invoice is paid in full. We can invoice you for as few as 5 members.
If you are considering 20 or more members then you should consider joining as a Company Member – here is a link.
Do I get a discount for signing up multiple members?
Yes! Multiple sign ups paid for through a single invoice save us on processing fees so we pass that saving onto you. You can expect a 7.5% discount on the standard individual membership – meaning that for a Short Course membership you pay only US$276.57 per person per year!
Can I join with a single membership and then share that with my colleagues?
No.
Membership is for individuals and sharing is not allowed. If we find that the login is being used by someone other than the registered user, the membership will be cancelled, with no refund.
Where can I compare the membership types?
Follow this link – Membership Comparison
What if I have more questions?
Then please contact us! Here is a link