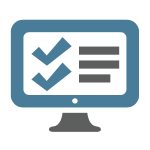 The training content at SparePartsKnowHow.com is based on a series of 8 independent training modules.
These modules are organized into courses but can each be undertaken individually.
The 8 training modules are:
Module 1: Introduction to Spare Parts Inventory Management
Module 2: Stock Level Decision Making
Module 3: Spare Parts Inventory Optimization
Module 4: Spare Parts Best Practices
Module 5: Metrics, Reporting & Policies
Module 6: The Storeroom: Introduction and Physical Management
Module 7: The Storeroom: Procedural Management
Module 8: Program Implementation
Scroll down for information on each module

Please note that all course content is provided in the course modules online.

---
Course Length and Time Commitment
---
We recommend a minimum time commitment of
2 hours per week
.
Studying at this rate will enable you to complete the training within the allocated time and leave some time for review.
Of course, if you have time, you can work through the content faster than that. The choice is yours.
For your convenience, access to the module content is available for 1 month from the date of enrollment, meaning that you can revisit the content as often as needed during this time.

---
Coaching support
---
Online course-related coaching and tutorial support is provided via our
exclusive online coaching
function.
---
Assessment
---
Each module includes an online quiz. Successfully completing the quiz leads to the award of a Certificate of Achievement. We set the 'pass' level for these quizzes at 80%.
---
Training Investment
---
The investment for each module $99.
Payment is accepted via credit card and PayPal.



Each of the module description boxes below includes a link for online enrollment in that module.
For other enrollment options please visit our How to Enroll page.