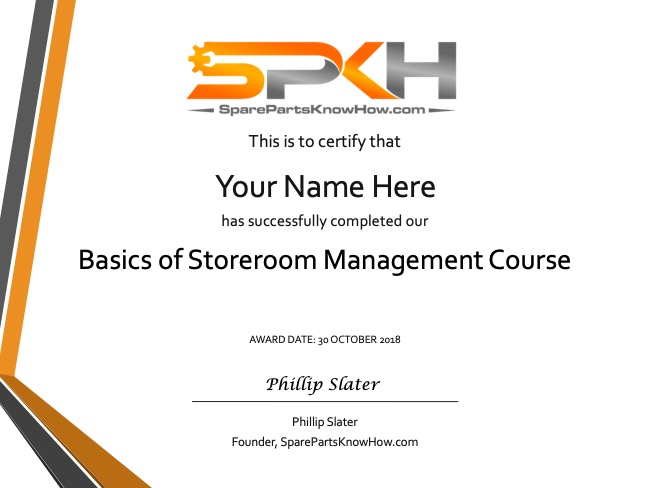 Course code: SP03
Delivery method: Instructor-led, online
Prerequisites: None





When does this course start?
This course is only available as an in-house company program.
Contact us to discuss your needs.


---
Course Content
---
The self-paced Basics of Storeroom Management Training Course is for people whose main focus is storeroom management.
The training course provides a general understanding of spare parts inventory management and teaches you how to determine the most appropriate stock holding level. Based on this foundation, the course then focusses on both the physical and procedural aspects of storeroom management.

---
Course Structure
---
This course consists of 4 learning modules.
Introduction to Spare Parts Inventory Management (INT1)

Lesson 1: Introduction
Lesson 2: Collaboration
Lesson 3: Financial Considerations
Lesson 4: Key Consideration for Managing Your Inventory

Learning outcomes:

Why maintenance spare parts inventory is different from other types of inventory
5 common supply chain techniques that should not be used with maintenance spare parts inventory
How maintenance, spare parts management, and procurement fit into the big picture
The 5 key financial principles for spare parts management.
How to identify and interpret the key financial reports associated with spare parts management

Read more

Critical Parts and Stock Level Decision Making (SDM1)

Lesson 1: Introduction
Lesson 2: Critical Spare Parts
Lesson 3: Deciding What to Stock
Lesson 4: Deciding How Many to Stock

Learning outcomes:

How to decide whether or not to stock an item in inventory
How to select spare parts for new capital equipment (First-Time-Buy)
How to identify and manage critical spare parts
How to determine the most appropriate re-order point (ROP)
How to determine the most appropriate re-order quantity (ROQ)

This module also includes decision-making exercises to test your know-how.

Read more

The Storeroom: Physical Management (SRM1)

Lesson 1: Introduction to Storeroom Management
Lesson 2: Physical Storeroom Management
Lesson 3: Obsolescence and Disposal

Learning outcomes:

The issues and potential responses for managing slow moving inventory
The difference between vendor-led and owner-led obsolescence and the implications of each
How to develop an End-Of-Life (EOL) plan and calculate Last-Time-Buy requirements
Managing spare parts disposal and how to pro-actively manage spare parts obsolescence and disposal
The 7 different disposal options and the benefits of each
The pros and cons of storeroom location decisions
The physical issues of storeroom management, including layout, storage issues, labelling, and work flow
Understand how to manage rotable and repairable spares

Read more

The Storeroom: Procedural Management (SRM2)

Lesson 1: The Procedural Storeroom
Lesson 2: Spare Parts Identification and Cataloging
Lesson 3: Managing Inventory Accuracy
Lesson 4: Bar Coding

Learning outcomes:

The issues in developing a spare parts identification system
The pros and cons of spare parts standardization
How to improve results with high quality materials data
The difference between Accounting Accuracy and Storeroom Accuracy and why it matters
The factors that most directly affect spare parts inventory accuracy
Planning for the three phases for conducting successful stock takes
The actions required to achieve a 100% accurate inventory
The practical application of bar codes

Read more

Please note that all course content is provided in the course modules online.

---
Who Is It For?
---
The Basics of Storeroom Management Training course is designed for those who work in or supervise the storeroom/warehouse activity. This includes: storeroom, spare parts management, supply chain, procurement, maintenance, planning, and finance.

---
Course Length
---
You have 3 months access to the course content.
During the course we conduct 4 x 90 minute online sessions to review each module.
The spacing of these sessions can be varied to suit your needs.

---
Coaching and Tutorial Support
---
Online course-related coaching and tutorial support is provided via our exclusive online coaching function.

---
Course Assessment
---
Each module includes an online quiz. Successfully completing all four of the online quizzes leads to the award of our Basics of Storeroom Management Course certificate. We set the 'pass' level for these quizzes at 80%.
Please note that the course The Basics of Storeroom Management course certificate will be forwarded to your registered email address within 7 days of course completion.

---
Training Investment
---
Investment in this instructor-led program on will be quoted on application.
The course includes the course access, instruction, and our policy templates.
Payment for this program is via invoice only.