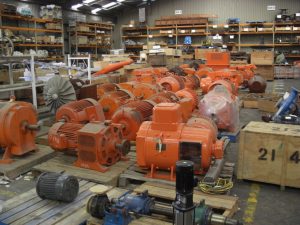 At its core, the process of asset recovery is exactly what sounds like: A viable way for businesses to recover capital from either surplus or unused industrial assets, like spare parts and unused plant and equipment.
What is not often fully appreciated is that one of the hidden costs of retaining used industrial equipment is the space factor.
Unless you can afford to continually expand your physical presence on a regular basis (and why would you!) your warehouse and production floor both have a finite amount of space to work with.
To be most cost-effective you need to be sure that the equipment you have meaningfully serves your business.
Retaining space for assets that you no longer require makes no sense what-so-ever.

But we have the space, so what's the big deal with asset recovery?

The reality is that when your organization begins the asset recovery process in earnest, it stands to benefit in a wide range of different ways. Some of them, like empowering your ability to recovery unused capital, are immediate. Others are much farther reaching, creating a positive ripple effect that can serve your business for years to come.
The are three issues that you need to consider:
Warehouses and scrap yards require management – this costs money.
Holding onto unused or junk equipment sets the wrong example – junk begets more junk.
You are missing the opportunity for capital recovery – that is cash in the door!

NRI Industrial, one of our Spare Parts Alliance members has written an extensive article that explains all of this and provides guidance on solutions.
Reading this article is highly recommended if you are at all interested in the asset recovery and free-ing up the cash that is frankly just laying about in your warehouse or yard.
Click here to read the article.


---
You might also be interested in this complimentary guide book: The Complete Guide to Asset Recovery
---